Detailed Analysis Of Path of Exile
Path Of Exile
Date: Mar/12/18 15:56:17
Views: 90
Path of Exile, which is a mega-popular free-to-play action RPG on the PC, made its big debut on consoles via the Xbox One. The game came with all expansions including the latest: War for the Atlas.
The Grinding Gear Games game features dazzling graphics and intense battle scenes, it's a clear and obvious competitor to Blizzard's Diablo game, but it manages to differentiate itself from its rival and present a unique and full-featured proposition.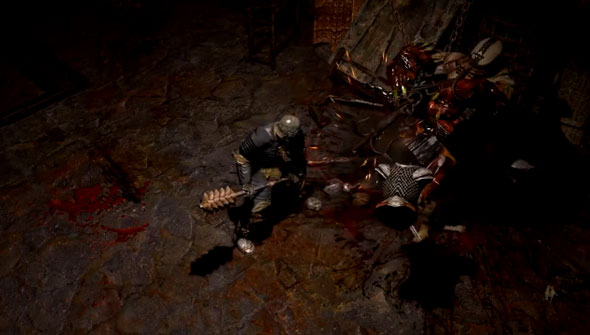 History and characters
In the story of Path of Exile your character is an exile who must fight the enemies that are invading Wraeclast. The narrative advances with dialogs that come with NPCs and some special scenes. The plot is complex as it is extremely vague, which can make you stop paying attention to events after a while. Still, in this type of game, history is not the most important element, it serves only as a background to make sense of the battles that follow, and that works well in Path of Exile.
They are a total of 10 acts, with incredible and fun ambiences, and memorable bosses at the end of each one.
Path of Exile offers players a total of seven classes, but make no mistake about the quantity, as each of these options offer you a gigantic amount of skill sets, which you assemble according to the gems placed on your equipment.
The Path of Exile gem system allows players to completely customize characters according to their game style as there is no gem restriction per class. There are some restrictions, of course, as the main statistical requirements of each class as strength, dexterity and intelligence. Because each class starts in a part of the talent tree, it may not have the exact amount of these attributes to use a particular skill, but this can also be solved by using equipment that provides these attributes.
Know the available classes:
Duelist: skilled in short-range combat and dispatching enemies with swords, axes and dual-handed weapons, though he can also punish with bow and arrow.
Templar: He can attack with melee weapons such as Swords, Maces and Staff and also magical attacks.
Witch: Has impressive ability to summon a lot of lackeys with high damage. It uses varied elemental magic.
Ranger: The most elusive of classes, being able to dodge most of the attacks, while eliminating enemies from a distance with the bow or up close with a quick one-handed weapon.
Marauder: A melee fighter with tremendous strength. He is able to use large and two-handed axes and swords and heavy armor.
Shadow: A skilled and clever fighter, he uses short-range weapons and traps during battle. You can also use quick weapons and varied magic.
Scion: can develop as any character class. It is only unlocked when the player finishes Act 3.
Each of these classes already have a predetermined gender (female and male) and this can not be changed.
Path of Exile has the clear objective of making players test and venture for different characters and their various variations and for that the studio already offers enough free slots so that you can play with at least one character from each class. You can buy more slots in the game store.
Gameplay
Path of Exile as we mentioned above drinks from the same Diablo source, including it came as an indie project around the same time as the release of Diablo 3, and was designed to be a more hardcore and complex option than the newly released Blizzard game, which faced harsh criticism of its players for becoming too simple.
Grinding Gear Games' gameplay brings fast, frantic combat, and basic mechanics are pretty easy to master, as well as extremely bloody battles. The maps are filled with secret places, so exploration of all the corners must be done for the discovery of new enemies, areas and items.
Do not wait for tutorials, the game provides only a small sampling of the basic commands. The rest of the players must learn as they go.
The mobility on the maps must be thought out carefully, as the number of enemies is very high and there are many powerful enemies scattered, each one has a fighting style and some kind of resistance. So progression should be done with caution and strategy.
In the first part of the campaign, which goes until Act 05, the progression follows as in all games of the genre, but in the second part, which begins from Act 06, whenever the player dies will lose all experience gained with the last enemies, then caution should be even greater.
The inventory of the game is not too large and can not be expanded, so the ideal is to take just the necessary or constantly use the portals to move to the cities and sell what is not good.
Overall the gameplay of Path of Exile works great and is built step by step. After the campaign finishes the game does not end, there is an enormous amount of endgame content, with a series of mazes and maps with special modifiers. That is, content is not lacking.
The game allows you to form a group of up to 6 players to make the adventure cooperative in all the contents of the game.
The Amazing Tree of Passive Skills
One of the great features of Path of Exile is its infamous passive tree of abilities. It is gigantic and brings even more complexity to the game. I say this because each type of class starts at a different position in the skill tree, determining a certain path to follow, but it is not mandatory. Every point used should be very thoughtful, as an error can be costly to the player. The game offers some points for you to undo some mistake, but there are many opportunities, so each step should be strategically thought out.
Skill points are earned each time we level up or complete certain missions. The points are limited, so think calmly about each choice, because here is the key to your character succeeding in the game or being overwhelmed by enemies.
The Microtransactions
Path of Exile is a free game and as is normal in this type of game, there is a shop for developers to profit from. But unlike some games that opt for this system, here we have a fair model, without creating disadvantages or obstacles for those who do not want to invest money in the game. There are no boosts or possibility to buy resources, weapons and equipment to get stronger in the game. The store basically offers cosmetic items and flaps for the chest.
Grinding Gear Games is truly commendable, as it has been able to implement a system in which it can profit from its free game, with incredible items and make the eyes shine, but nothing that leaves the gameplay unbalanced and affects the quality of the game.
It is worth remembering that there is also an in-game market among the players themselves, where the person who bought the premium tab in the chest can sell items in exchange for the game's own resources, such as orbs for improving items.
Graphics and Sound
Path of Exile features excellent graphics that are valued for diverse, detail-packed environments, as well as lighting effects and magic animations that are extremely beautiful and developed. There is a wide selection of maps and climates to explore, jungles, deserts and beaches, to name just a few. The world of Wraeclast is impressive, and definitely contributes to the appeal of the game.
But not everything is flowers, the game presents some problems that are annoying, like crashes, fps drop when there are many enemies and skills being used on the screen, and an error that disconnects players. They are annoying faults, but they do not spoil the overall experience in the game. But they need to get attention as soon as possible from Grinding Gear Games.
The sound part is very good, the sounds of the attacks and abilities are very realistic and bring immersion to the game. The background trail changes according to the maps and provides the right climate for each situation.
The dubbing is very good and the voices combine with the characters. The game has dialogues and menus in Portuguese, but the second part of the campaign is in English only, something that should be corrected soon.
Opinion
Path of Exile is a welcome addition to the Xbox One library, it brings a great free-to-play gameplay and adds quality to the platform. If you are a fan of the genre and enjoy a good action RPG or if you are a Diablo fan, Path of Exile is undoubtedly recommended for you, as well as being a great game to join friends in the fun.
Grinding Gear Games did an excellent job of renewing and improving the game, with a high quantity and quality of content. Despite having some performance issues, Path of Exile offers a great quality experience that will countless hours of addiction and fun.
Do you want to make Path of Exile items quicker for your game account? If you do, you can visit U4GM to have more guides and methods about this. Also, U4GM is the professional PoE services sales store, you are free to purchase from u4gm if you need. We believe that you can receive the best service!